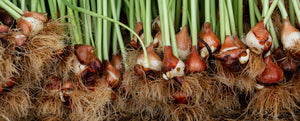 Join now!
Start collecting reward bulbs to receive discounts and FREE seasonal flowers  - watch your bulbs grow!
How it works
1. JOIN You'll need to be signed in to your account to earn bulbs (excluding shipping costs). Unfortunately, we can't apply points to purchases made as a guest.
2. SHOP Earn bulb points on every purchase
3. SPEND You can start redeeming your bulbs as soon as they're in your account. They'll appear at the checkout on the payment page. You can put them towards your next order or save them up.
Grow your Bulbs
Here's how you can earn bulb rewards
Create an account = 5 Bulbs
Place an order - 1 Bulbs for every £1 spent
Follow us on Instagram – 5 Bulbs
Like us on Facebook – 5 Bulbs
Celebrate a Birthday – 10 Bulbs
Frequently Asked Questions
Is there any cost to join Love Delivered Rewards?
No, The Love Delivered rewards scheme is completely free.
How do I join the rewards programme?
You automatically start earning rewards when you sign up for a customer account online at www.lovedelivered.co.uk, by providing your first name, surname and your email address.
Where can I find my points?
In the rewards panel. Simply click on the Rewards button located at the bottom left of your screen.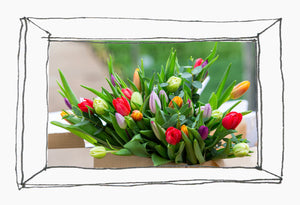 Bulb Rewards T&Cs
Bulb Rewards can only be earned when a customer has a customer account with Love Delivered and places the order on said account.
Customers with accounts who checkout as a 'guest' will not earn Bulb Rewards on orders placed during 'guest' checkout.
Customers can earn Bulb Rewards when placing an order. The value of products purchased will determine the number of Bulb Rewards awarded. Shipping costs do not count towards the total when calculating Bulb Rewards.
1 Bulb Rewards = £1
The total value of Bulb Rewards must be spent in 12 months from the most recent addition of Bulb Rewards into a customer's account. If the Bulb Rewards are not spent within 12 months they will expire and be unavailable for customers beyond this point.
Bulb Rewards can be redeemed at checkout at lovedelivered.com When applying Bulb Rewards to your order the full credit balance will be applied. Any additional payment that may need to be made against your order will need to be covered by the payment methods available at checkout.
When applying credit to an order where the subtotal is less than the credit balance, the subtotal will be removed from your credit balance and you will keep the remaining credit balance.
In the event of a refund your Bulb Rewards will be voided.
Love Delivered retain the right to remove Bulb Rewards from customer accounts in cases of misuse and fraud.
Love Delivered retain the right to pause or cancel Bulb Rewards at any time.